THE GEIGER DATABASE

DATA TABLE STRUCTURES
DATABASE JGDBFULL TABLES
TABLE DETAIL: MMTFTALINFO
The structure of this table was designed to track dates related to a biographical questionnaire sent to members of the Taliesin Fellows.
Note: The column labels shown within the table structures are historical references only, and do not reflect the definitions used within the version of the database being served through the website.
TABLE NOTES
Table MMTFTALINFO contains 944 rows arranged in 3 columns.
Entries record the date of biographical information for individual Taliesin Fellows was entered into the Geiger database from November 18, 1992 to August 14, 1994.
Records from Table TALINFO LINE ITEMS are displayed in a subform. The table relies on a lookup relationship with a column of Table MMTFNL.
Database Search
The content of this table is not accessible through the version of the database available on the website.
ORIGINAL DATAEASE FORM SCREEN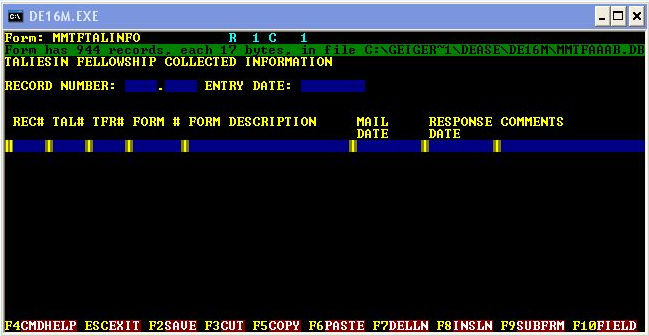 Document: DataEase table definition printout (PDF)
COLUMN LABELS
Column: [RECORD NUMBER] records a unique numerical identifier through lookup on a row value of Column [RECORD NUMBER] of Table MMTNFL.
Column: [TALINFO#] records a unique numerical identifier for each row in the table.
Column: [ENTRY DATE] records a date in month/day/year format.
RELATED QUERY PROCEDURES
This table is referenced in 1 query procedures devised by Geiger:
Copyright © 2010 John W. Geiger