THE GEIGER DATABASE

GEIGER QUERY PROCEDURES
Database JGDBFULL Query Set
PROCEDURE 48: TFMBRLISTBYDATE
The query returns a membership list for the Taliesin Fellows.
Note: The column labels shown within the query structures are historical references only, and do not reflect the definitions used within the version of the database being served through the website.
PROCEDURE NOTES
Procedure TFMBRLISTBYDATE calls on Tables MMTFNLSF and MMTFNL with filters for dates and an identification code to restrict the query to specific types of individuals related to Column [ID CODE 1] of Table MMTFNL. The abbreviation meanings can be found in Table MMTFID. The printed report produced a directory of personal contact details arranged chronologically by membership date greater than December 1, 1999.
Database Search
Search based on this procedure cannot be executed through the version of the database available on the website.
ORIGINAL DATAEASE PROCEDURE SCREENS
Query Structure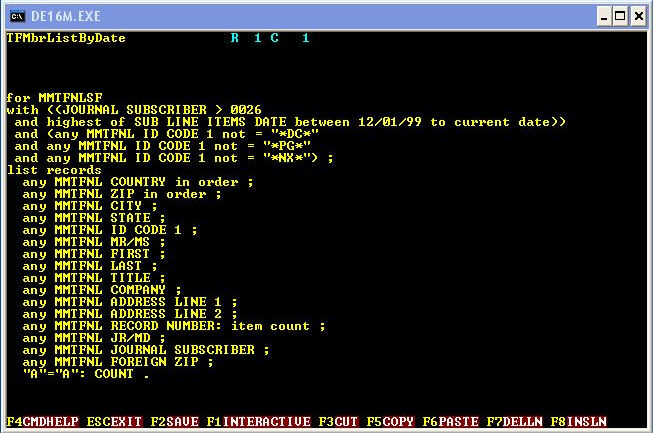 Report Format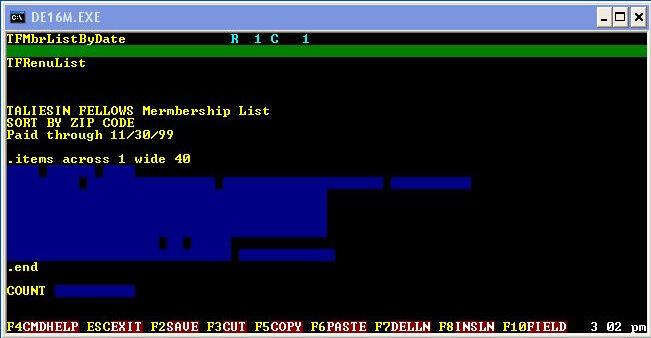 Document: Dataease Procedure Definition Printout (PDF)
Copyright © 2010 John W. Geiger