THE GEIGER DATABASE

DATA TABLE STRUCTURES
DATABASE JGDB10 TABLES
TABLE DETAIL: MMTFID
The structure of this table was designed to record a list of abbreviations to categorize the relationships of individuals to the Frank Lloyd Wright community.
Note: The column labels shown within the table structures are historical references only, and do not reflect the definitions used within the version of the database being served through the website.
TABLE NOTES
Table MMTFID contains 39 rows arranged in 3 columns.
Entries record abbreviations codes and a description to serve as an index for the role or function of individuals as they relate to the communities of the Taliesin Fellowship, the Taliesin Fellows, subscribers to the Journal of the Taliesin Fellows, staff or others relevant because of involvement with Frank Lloyd Wright buildings or conservation organizations, and miscellaneous other indications.
See also similar abbreviations found in Table MMTFIDCODES and report format of Procedure 4 in Database JGDB10.
The table contents produce the following list:
IDENTIFICATION CODE
ID #:
DESCRIPTION
AS
1
Architectural School
BS
1
Bookstore
DC
1
Deceased
FA
1
Family Member, Wright
GP
1
General Public
NX
1
Nixie, unknown or incorrect address
PG
1
Progeny, children of apprentices
SP
1
Spouse of Apprentice or other
TF
1
Taliesin Fellow
TFTW
1
Taliesin Fellow, Foundation resident
WSST
1
Taliesin West, Foundation Staff, not apprentices
DR
2
Taliesin Fellows Board of Directors
HF
2
Honor[ary] Fellow, employees of FLLW prior to '32 Fellowship
OP
2
Original '32 Apprentice
RE
2
1987 Reunion attendee
TM
2
Taliesin Men, architectural personnel overlapping Fellowship
JS
JS
Journal of the Taliesin Fellows Subscriber
MU
1
Musician, summer resident
WC
1
Frank Lloyd Wright Conservancy Member
BO
1
FLLW building; client name and current resident
TR
1
Taliesin Related; not an apprentice
TQ
1
Taliesin Quarterly referals
LAT
1
Los Angeles Times editorial response
HH
1
Hollyhock House people
PR
1
Press release recipients
TFST
1
Taliesin Fellow, Student
R2
2
Fellows reunion 1992 attendees
C2
2
FLLW Conservancy 1992, Manchester, NH attendees
NP
1
Non print record
SAH
1
Society of Architectural Historians/Southern California
AO
1
Architectural Office
AIA
1
American Institute of Architects
SARA
1
Society of American Registered Architects
TFCH
1
Taliesin Fellows Chapter
WEB
1
Web Membership
LB
1
Library, public, not an architectural school
TU
2
Tutor to Brandock Peters
AS
2
Associate not in residence: Architect, furniture, sculptor
GD *
1
"Gurdjieff People" from Mrs. Wright's group.

Not apprentice.
* Note: The Gurdjieff category assignment is described by a comment on a report format for PROCEDURE 87: TFGURDJIEFF in Database JGDBFULL as "Names that appear on Minerva's [Montooth] 09/07/1996 list but were not apprentices, at least not known by other apprentices known to be there on the specified dates, like John Geiger."
Database Search
The content of this table is accessible through the version of the database available on the website.
ORIGINAL DATAEASE FORM SCREEN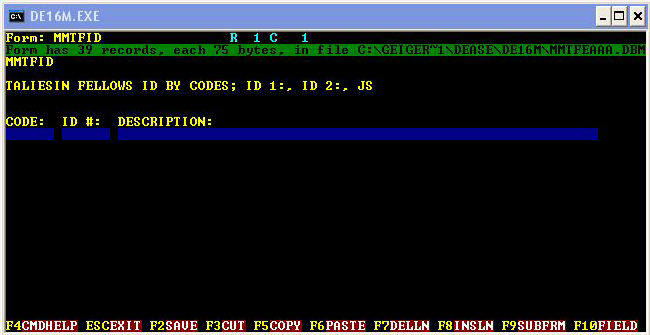 Document: DataEase table definition printout (PDF)
COLUMN LABELS
Column: [IDENTIFICATION CODE] records an abbreviation for a category found in [DESCRIPTION].
Column: [ID #:] records "1" for abbreviations recorded in rows of Column [ID CODE 1], and "2" or "JS" (for Journal of the Taliesin Fellows subscriber) for abbreviations record in rows of Column [ID CODE 2] of Table MMTFNL.
Column: [DESCRIPTION] records the term defining the abbreviation found in rows of Column [IDENTIFICATION CODE].
RELATED QUERY PROCEDURES
The data in this table is referenced in 1 query procedure devised by Geiger:
Copyright © 2010 John W. Geiger