THE GEIGER DATABASE

GEIGER QUERY PROCEDURES
Database JGDBFULL Query Set
PROCEDURE 2: MMTFREC#
The query returns a mailing list for selected subscribers to the Journal of the Taliesin Fellows (JTF).
Note: The column labels shown within the query structures are historical references only, and do not reflect the definitions used within the version of the database being served through the website.
PROCEDURE NOTES
Procedure MMTFREC# calls on Table MMTNFL with a series of manually entered filters applied on Column [RECORD NUMBER] (e.g., "3128", for Dana A. Hutt; "5202", for Anna Boyiasis; "0154", for Theodore Manley; "2259", for Pamela D. Kingsbury; "0088" for Val M. Cox ; and "0250", for Yen Liang; etc.). The four digit numbers seen in the Query Structure image below reflect the range of individual names selected during the last search executed by Geiger. The query is also present in a more developed but non-functional version as PROCEDURE 1: MMTFREC# in Database JGDB10. The report format produced mailing labels.
Database Search
Search based on this procedure cannot be executed through the version of the database available on the website.
ORIGINAL DATAEASE PROCEDURE SCREENS
Query Structure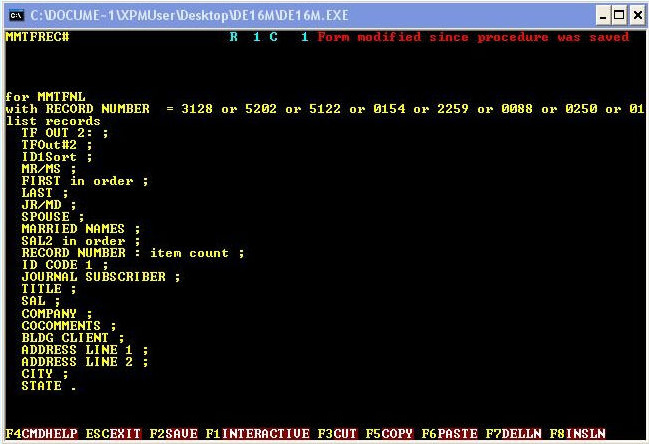 Report Format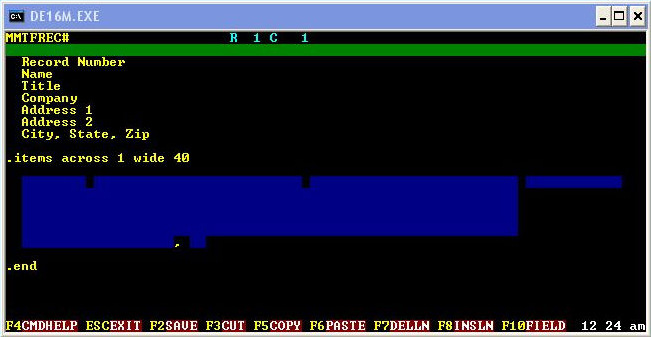 Document: Dataease Procedure Definition Printout (PDF)
Copyright © 2010 John W. Geiger