THE GEIGER DATABASE

GEIGER QUERY PROCEDURES
Database JGDBFULL Query Set
PROCEDURE 1: MMTFJS
The query returns a mailing list for libraries and architectural schools that subscribed to the Journal of the Taliesin Fellows (JTF).
Note: The column labels shown within the query structures are historical references only, and do not reflect the definitions used within the version of the database being served through the website.
PROCEDURE NOTES
Procedure MMTFJS calls on Table MMTFNL with extensive filters applied on Column [ID CODE 1] to include specific categories of institutional subscribers ("*LB*", for libraries; and "*AS*", for architectural achools), and exclude other categories ("*DC*", for deceased; "*NX*", for address unknown; "*NP*", for non print records; "*TFLA*", whose meaning is undetermined [but likely meant Taliesin Fellows living in Los Angeles], and "*SP*", for spouse of Taliesin Apprentice or other of Taliesin Fellows). The abbreviations for most of the filter terms can be found in Table MMTFID. The report format produced mailing labels. The report was last generated for Issue #25 of the JTF, dated August 29, 2000.
Database Search
Search based on this procedure cannot be executed through the version of the database available on the website.
ORIGINAL DATAEASE PROCEDURE SCREENS
Query Structure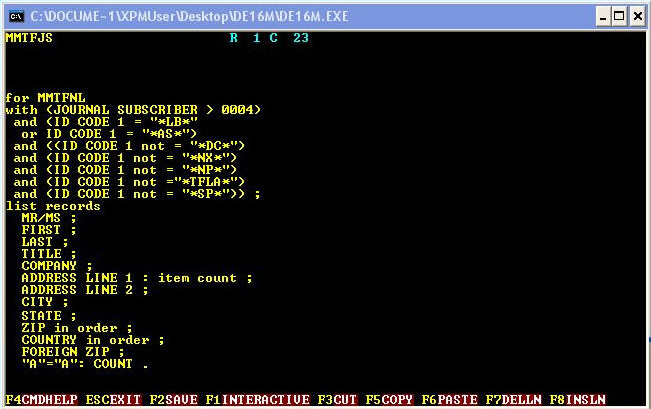 Report Format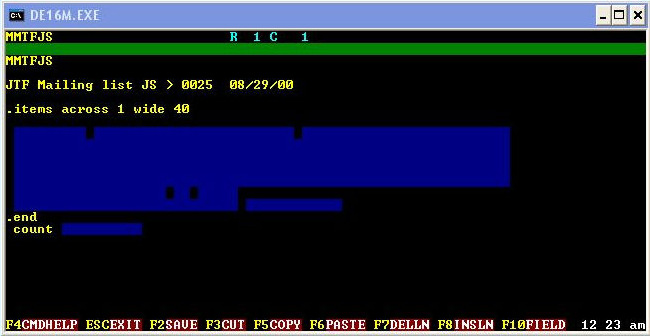 Document: Dataease Procedure Definition Printout (PDF)
Copyright © 2010 John W. Geiger