THE GEIGER DATABASE

GEIGER QUERY PROCEDURES
Database JGDBFULL Query Set
PROCEDURE 43: MMTF1970
The query returns a list of individuals present or related to the Taliesin Fellowship during 1970.
Note: The column labels shown within the query structures are historical references only, and do not reflect the definitions used within the version of the database being served through the website.
PROCEDURE NOTES
Procedure MMTF1970 calls on Table MMTFNL with filters for dates and an identification code to restrict the query to specific types of individuals. The printed report produced a directory of personal contact details.
Note: This procedure resembles other queries designed to report the population of the Taliesin Fellowship (e.g., Procedures 4-31), but unlike those searches the results reported by Procedure 43: MMTF1970 are not exclusively confined to individuals in residence at Taliesin. In general, the Geiger database does not consistently contain information about Foundation staff, students, or others living at Taliesin if they arrived after 1960-1965.
Database Search
Search based on this procedure cannot be executed through the version of the database available on the website.
ORIGINAL DATAEASE PROCEDURE SCREENS
Query Structure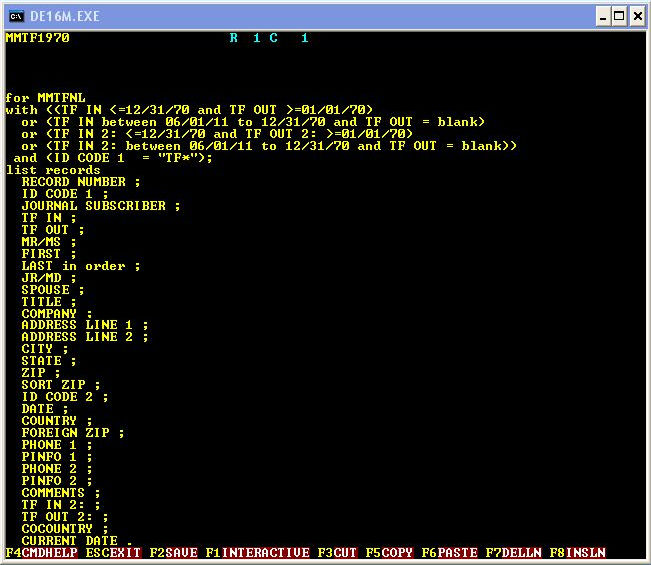 Report Format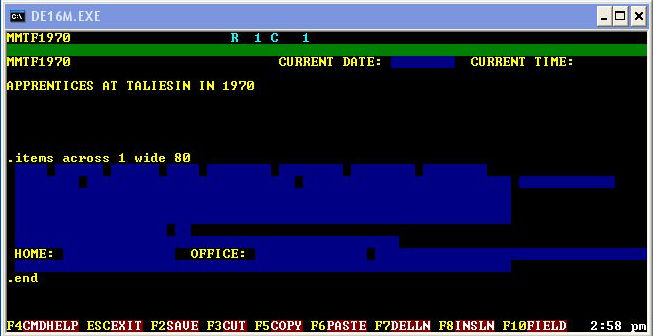 Document: Dataease Procedure Definition Printout (PDF)
Copyright © 2010 John W. Geiger