THE GEIGER DATABASE

GEIGER QUERY PROCEDURES
Database JGDBFULL Query Set
PROCEDURE 36: MMJGBOOKLIBRARY
The query returns an inventory of books, periodicals, and archival materials held by John Geiger in his library.
Note: The column labels shown within the query structures are historical references only, and do not reflect the definitions used within the version of the database being served through the website.
PROCEDURE NOTES
Procedure MMJGBOOKLIBRARY calls on Table MMJGBKLB to report a list of the Geiger library contents The resulting report includes the entire range of studies to which Geiger was attracted intellectually, even though only materials related to Frank Lloyd Wright were deposited in his archival collection. The report format produced list with bibliographic and valuation information for each item, ordered alphabetically by author and title.
This procedure is the similar to PROCEDURE 47: JGBOOKLIBRARY in Database JGDBFULL, and similar to PROCEDURE 6: MMJGBOOKLIBRARY and PROCEDURE 8: JGBOOKLIBRARY in Database JGDB10.
Database Search
Search based on elements of this procedure can be executed through the version of the database available on the website.
ORIGINAL DATAEASE PROCEDURE SCREENS
Query Structure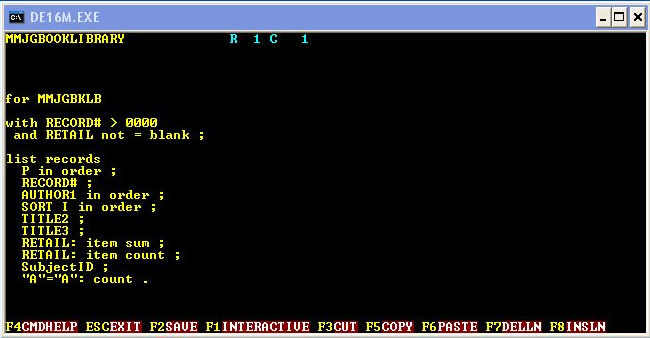 Report Format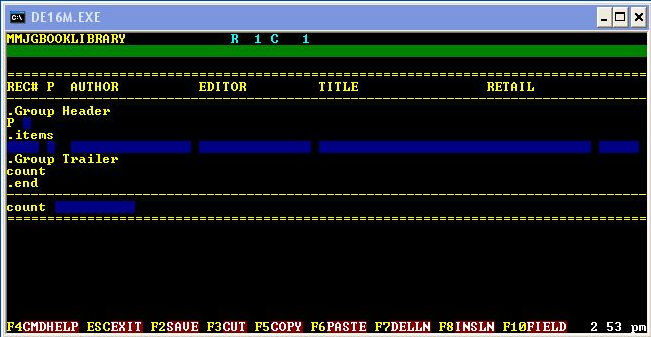 Document: Dataease Procedure Definition Printout (PDF)
Copyright © 2010 John W. Geiger