THE GEIGER DATABASE

GEIGER QUERY PROCEDURES
Database JGDBFULL Query Set
PROCEDURE 35: MMJGINV
The procedure was designed to return an inventory of personal possessions belonging to John Geiger.
Note: The column labels shown within the query structures are historical references only, and do not reflect the definitions used within the version of the database being served through the website.
PROCEDURE NOTES
Procedure MMJGINV calls on Table MMJGINV to report a list of objects with descriptive details such as provenance, origin, size, quantity on hand, original and current retail cost or appraisal valuation, all grouped by location in the Geiger apartment with financial totals for each area.
This query is the same as PROCEDURE 5: MMJGINV in Database JGDB10.
Database Search
Search based on this procedure cannot be executed through the version of the database available on the website; however, the results of the query can be downloaded in the printout, below.
Document: Procedure 35: MMJGINV in replicated DataEase report format (PDF)
ORIGINAL DATAEASE PROCEDURE SCREENS
Query Structure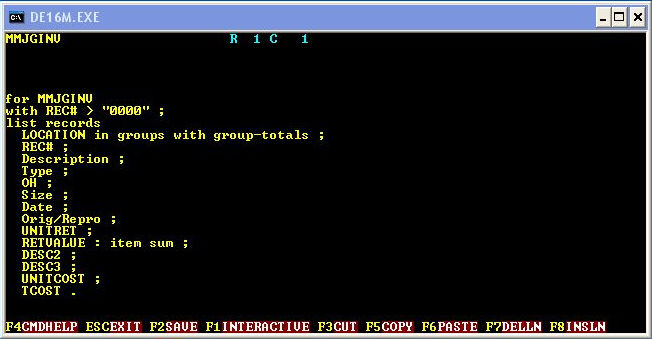 Report Format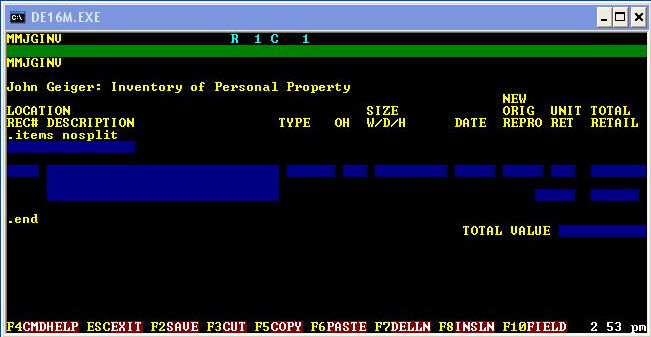 Document: Dataease Procedure Definition Printout (PDF)
Copyright © 2010 John W. Geiger